I'm over halfway done with the book I've been writing. I just submitted chapter 5. I've written all the code for chapter 6 and am currently writing up the explanations and walk-throughs now for that chapter. A few weeks ago, I got permission to put up the code for the book on my github here:
https://github.com/nfmcclure/tensorflow_cookbook .
It seemed kind of flat to just put up the python scripts for each recipe, so I'm trying to add documentation with graphs to explain why and what each chapter and section is about. I don't want to overstep my book and provide all information on the github, but I do want to provide enough so that the scripts are readable and show that they have a point to understanding Tensorflow and the machine learning algorithms.
Also, a few weeks ago, my editor suggested a cover picture for the book. I noticed that the style of cover pictures for this publishing company for technical books is just a really nice random picture. Most technical books don't really have a point to the cover pictures, in fact, 'O'Reilly' is famous for having random pencil drawings of animals on their technical books. Here is the cover for my book: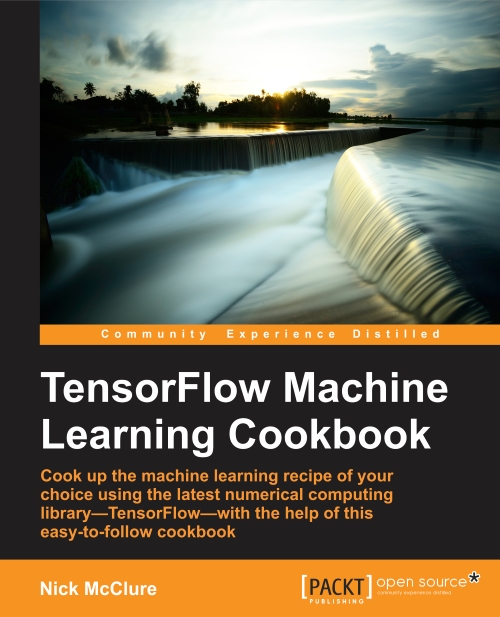 Also, as a really interesting side note, my publisher offered to enroll the book into a new program that they offer. The book is available NOW, for full price, and you can get updates as I write it. If you are interested in that deal, the link is here:
https://www.packtpub.com/big-data-and-business-intelligence/tensorflow-machine-learning-cookbook
The writing has been going well. Writing the chapter on support vector machines was much harder than I expected. While I studied SVMs in school, actually writing code and understanding how to implement different kernels via matrix multiplication in Tensorflow code was quite frustrating, but very rewarding when it finally worked.
I'm slightly worried about the rest of the book, as it is on a fairly new subject to me and I'm currently only one chapter ahead of the deadlines.
Back to writing...